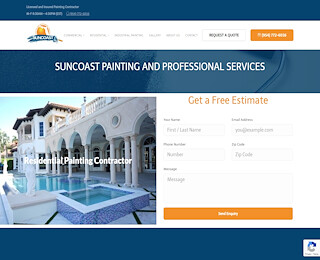 Suncoast Painting provides professional interior painting in Miami. Whether your interior painting project is in a residential or commercial setting, Suncoast Painting has the knowledge, expertise, and resources to get your job done at a professional grade. We are experienced interior painters with plenty of interior painting references in Miami and South Florida. Trust Suncoast Painting, the professional painting contractor that more and more Floridians are turning to for affordable, professional, and speedy interior painting.
An Interior Paint Job Will Only be as Good as the Products You Choose
As you may or may not know, an interior painting job will only be as good as the interior paint products and techniques that you use. For this reason, we always recommend premium paint products and employing the services of an interior painting pro. While it may cost you a bit more up front for premium interior paint products and services, the job will be done much better, and your paint will last for a lot longer. Hence, you will actually save money in the long-run by investing in premium interior painting products and services.
Choose the Best Primer
When you strip wallpaper, there is usually some remaining wallpaper residue or an otherwise troubled surface. If we run into problems with your wallboard, we may opt to use a Zinsser product, which is a product called Gardz. It is a water-based problem-surface sealer. The primer is clear, which do-it-yourselfers love because it will be invisible if you get some on the trim or floor. When removing wall covering, the wall covering can bubble. This primer locks down the paper and the paste and keeps the water-based or latex-based paint from penetrating and rewetting the paste that's already on the wall. For harder surfaces, we may elect to use an extreme bonding primer. Each job calls for different products.
Painting the Ceiling
When painting the ceiling, it's more about the overall look than any specific product. The idea with most ceiling painting jobs is to bring out the color of the walls. This is usually achieved by using a flat, dull-looking color on the ceiling. A great product for this is by Sherwin Williams, called CHB Flat Latex Paint. Along with ceilings, this product works great in closets. This product covers well, levels well, and requires a two-coat application. CHB Flat Latex Paint is also a very cost-effective ceiling paint product.
Protecting Your Belongings
Along with using the best premium interior painting products, it is essential to take specific steps to protect the belongings, floors, and trim work in our clients' homes and establishments. At Suncoast Painting, we have all of our own drop cloths, painter's tape, trim and doorknob coverings, and other pertinent materials to get your interior painting job done thoroughly, efficiently, and without damaging anything in the home.
Choose Suncoast
For expert interior painting in Miami, the choice is clear; contact Suncoast Painting today. We provide free, on-site quotes, and we believe you will be pleasantly surprised at how affordable our prices are.
interior painting Miami
Suncoast Pros
954-772-6016
4970 SW 52nd Street
Davie
FL
33314
View Larger Map