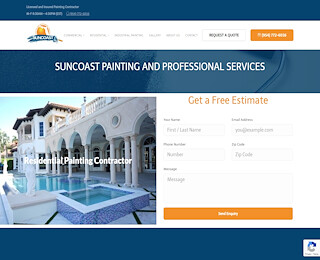 It's easier than you think to find the right company offering commercial painting in Boca. Just follow the positive word of mouth to find our expert painters at Suncoast Pros. We know choosing a painter is like wading through a sea of competition- and we work hard to demonstrate why we are the right choice for your project.
Why Hire Pros?
Hiring a professional will ensure you'll experience the highest standards with the least amount of hassle throughout the project. We are known as a painting contractor committed to excellence from start to finish, so you can expect to experience perfect results the first time without having to call us back to correct a problem. A few of the many reasons locals trust us to paint their businesses include:
Eco-friendly, low-VOC and no-VOC paints and materials that do an excellent job of renovating tired and dull walls and building exteriors. If you're planning a renovation in the near future, it's a great time to start thinking about new paint.
Our fully insured painting team will treat your business like our own home, respecting any prerequisites before entering your place of business and maintaining a clean work environment throughout.
We don't just offer the most reliable commercial painting in Boca- we are also a company renown for professional waterproofing, hot & cold pressure washing, building maintenance, and janitorial services.
Commercial painting in Boca and its surrounds.
Consider the Benefits
Professional commercial painting gives your potential customers or clients a reason to choose you over all of the other local businesses offering the same products or services. While it's true that it's hard to judge a book by its cover, it's often the stand-out buildings that provide that warm, friendly feeling that welcomes potential new business. Well maintained buildings are inviting places to do business, and offer the following additional benefits:
Exterior paint protects your structure from the damaging effects of inclement weather and environmental conditions, like South Florida's intense sunlight and harmful UV rays.
You'll see an increase in company morale and pride in your employees due to an increase in aesthetic value. Just ask your workers what they think about the current appearance of your building, and you'll be motivated to  make changes.
If you happen to own the building, you'll see an increase in the value of your property. ROI is significant on professional-quality paint.
Tell-Tale Signs Your Building Needs New paint
If you notice paint that's cracked, chalked, blistered, or covered with mold, mildew, or algae, it's probably time to make a call to our team of painters from Suncoast Pros. We can come out, take a look at the condition of your building's exterior, and let you know what we can do to breathe new life back into your building's appearance- and we'll offer a free quote for the project as well. One call is all it takes to get the process underway.
commercial painting Boca
Suncoast Pros
954-772-6016
4970 SW 52nd Street, Davie, FL 33314
View Larger Map