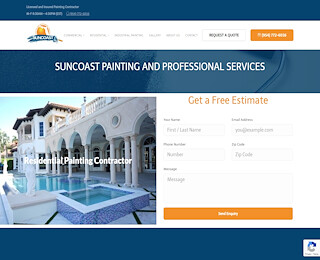 Whether your edifice is a local office building, retail space, or any other kind of commercial building, hiring the right Boca Raton commercial painting contractors couldn't be more important! Commercial painting projects present a unique set of needs and challenges that only a painting contractor who has been trained, is licensed, and is experienced in commercial painting can take care of. Whether your commercial painting job involves interior or exterior painting or both, you need a painting contractor who knows your needs! Sun Coast Pros is proud to be your commercial painting contractor in Boca Raton!
Why Choose Sun Coast Pros?
Sun Coast Pros is a professional commercial painting company that uses all of the best protocols, safety practices, and state-of-the-art technology to complete all commercial painting tasks in a clean, neat, organized, and safe manner. We'll protect your employees, your property and assets, ourselves, and any customers that might be present. We've worked at all kinds of heights and unique locations. We have the tools and equipment to get any commercial painting job done correctly and in a timely fashion.
We Work Fast and Efficiently
As an establishment, we understand that you have a tight budget and time restraints. That is why it is so important for your painting contractor to get the job done right the first time, and to do so in a timely fashion. This involves a systematic approach to the tasks at hands. We'll assess your property and formulate our plan of attack. We know where to start, where to finish, how to apply the paint, and do everything else that is involved with the job. Our teamwork allows us to get the work done quickly without sacrificing quality.
Choose an Honest Boca Raton Painting Contractor
Another thing that our commercial clients enjoy from us is that what we quote is what they pay, and never a dollar more! This is important to consider because a lot of painting contractors in Boca Raton make their money by bidding low and charging hidden fees later. That could be the worst feeling in the world! Sun Coast Pros cannot promise that our bid will be the lowest quote you get, but it will be honest, and there will be no hidden fees with us.
We Can Help You Plan Your Painting Project
Sun Coast Pros is the perfect painting partner. We can work for you or work with you. We can do exactly what you say, or we can give you our two cents and ever be there from the beginning to assist and provide our professional input to help you get the best results possible from your painting project. When assessing your property, we know what to look for that can affect your paint job. Things like weather, structural defects, and other roadblocks can be quickly identified and addressed so they don't get in the way later.
Contact us today for a free itemized estimate. We look forward to serving you.
Suncoast Pros
954-772-6016
4970 SW 52nd Street, Davie, FL 33314
View Larger Map